Considering Memory Care
Moving from assisted living to memory care can be a challenging decision. Your loved one may need more support services and staff capable of enriching their lives. Assisted living can have many similar amenities but doesn't have the same specialized health care and wellness programming.
How do you decide when to make the transition? Knowing the benefits of memory care and the level of care your loved one needs can help you feel confident about the move.
Assisted Living vs. Memory Care: What's the Difference?
Many senior communities with assisted living tend to offer multiple levels of care, including assisted living and memory support. With more than one type of care in the same facility, it can be easier to transition.
However, the community may offer limited memory support services in some cases, as they are not a specialized community. Therefore, it's crucial to communicate with the facility team to determine what services and therapies they include.
Generally, assisted living offers seniors the most freedom while including multiple levels of care. Independence is encouraged, but they still have access to personal care. Although assisted living doesn't focus on medical services, some medical care is available, including help with managing medications.
What services and amenities are available depends on the facility, but usually includes:
3 meals daily
24-hour security
24-hour on-site staff
Housekeeping & laundry
Personal care assistance
Social & recreational activities
Memory care includes more specialized care for residents with memory or cognitive challenges. The services, programming, and medical care is usually tailored for residents with dementia, Alzheimer's disease, or Parkinson's disease. The facility is designed to improve their quality of life while improving safety and wellbeing.
Memory care typically includes:
24-hour supervision
Complimentary transportation
Coordination with healthcare providers
Housekeeping & laundry
Meal services
Medication management
Memory-enhancing activities
Mobility assistance
Personal care
Incontinence & toileting
Assisted living and memory care facilities can have similar amenities and spaces, including gyms, gardens, and recreation rooms. However, memory care facilities have specialized features, from room design to programming, to support wellness and enrichment. Memory care programs also feature therapies and activities that promote cognitive stimulation.
Some assisted living facilities employ staff with specialized training, but it may not be a priority. Conversely, memory care facilities hire skilled professionals with training and certifications related to cognitive and memory care needs. As a result, they can recognize and manage behaviors common with Alzheimer's and dementia.
The higher staff-to-resident ratio also improves their ability to provide personalized care. Additionally, the secured exits and entrances, and 24-hour supervision, helps ensure resident safety and wellbeing.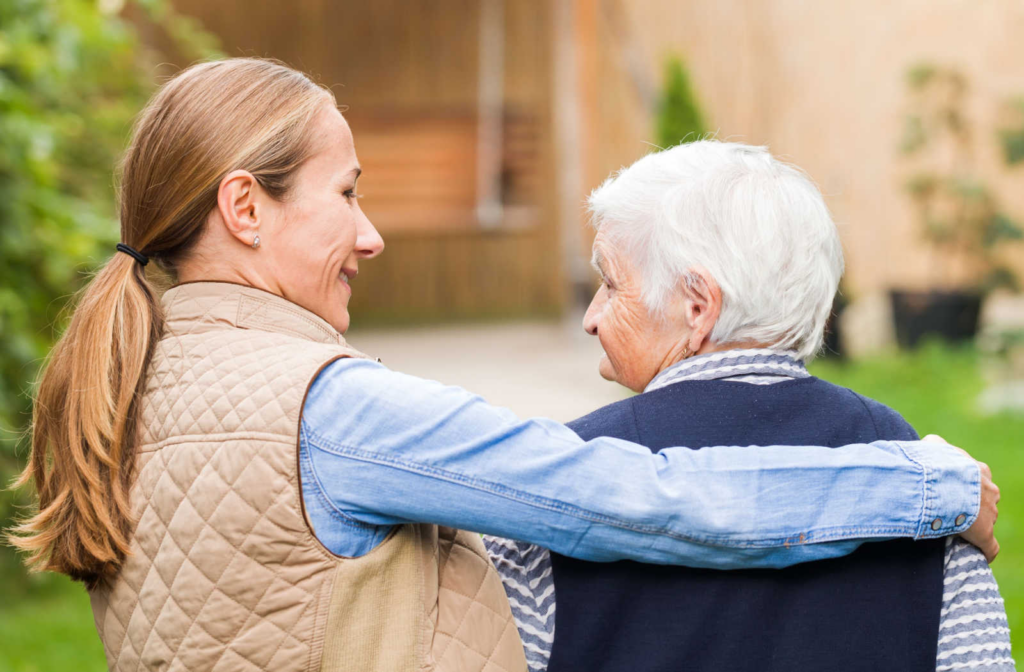 When it's Time to Transition
Memory care offers more benefits to residents with memory or cognitive difficulties. But how do you know when they need those benefits? Seeking the advice of healthcare providers, such as a family doctor, can help you determine the level of care required.
It's also okay to go with your gut. You know your loved one best. So if you've noticed signs, your loved one may have a better quality of life with memory care.
Support with Behavior Changes
People living with Alzheimer's disease or dementia can cause behavior changes during the middle to late stages of the disease. Beginning in the middle stage, typically the longest stage, seniors may have difficulty communicating. They can develop behaviors that risk their safety or the safety of others.
Memory care staff are trained to support residents and manage risky behaviors. Some typical behavior challenges seniors may exhibit include:
Aggression
Confusion
Depression
Hallucinations
Repetition
Sleep problems
Wandering
The security and increased staff can be particularly significant when wandering or sundowning becomes an issue. Additionally, with 24-hour supervision, residents receive consistent support from a team trained in coping strategies.
Specialized Wellness Programing
Assisted living is best for seniors who need some support for physical care. They can also benefit from access to social activities. When seniors act withdrawn or refuse social events—even avoiding activities they love—they may need additional support for mental or emotional care.
Memory care staff carefully assess a resident's needs to plan activities and personalize services according to a senior's preferences, abilities, and care needs. They work with other team members, healthcare providers, and the resident's family to develop wellness programs.
Wellness programs encourage socializing and support mental health. Seniors have access to therapies designed for their unique needs. For example, music therapy can:
Enhance memory & cognition
Lower stress levels
Improve sleep
Help with depression
Reduce agitation & anxiety
Help treat depression
Music therapy can also have benefits for physical health and add physical activity into their routine. Even without moving to the grove, music therapy can help with muscle relaxation, breathing, and blood pressure. It may also improve communication between caregivers and residents.
Memory care communities are also generally smaller in size. As a result, the community can provide better personalization for activities, therapies, and wellbeing services.
See the Memory Care Difference
Sometimes seeing the difference in person can help you make your decision. Our staff is available to answer questions about our community. At Barton House in Nashville, we're committed to providing personalized care and promoting an active lifestyle.
When it's time to move from assisted living to memory care, we can help. Contact us today to see more of what our community has to offer.