When your loved one is diagnosed with dementia or Alzheimer's disease, they'll need specialized support as their condition progresses. Memory care provides living specifically designed for those experiencing cognitive challenges.
But how can memory care help? Memory care provides around-the-clock support by specially trained staff, in a safe, secure environment, with engaging activities to enhance the quality of life. They also offer meals, housekeeping services, on-site services, events, and more.
Barton House Memory Care provides support and care as your loved one's disease progresses in a carefully designed environment. Whether your loved one is newly diagnosed or their condition is advanced, our skilled team can meet their needs and focus on maintaining their cognitive functions for as long as possible.
What Are the Benefits of Memory Care?
Memory care can provide benefits beyond specialized support. For residents with dementia or Alzheimer's and their families, memory care can provide knowledgeable, dedicated staff, a social network with other older adults, and a calendar full of enriching events. Other benefits also include:
24/7 access to professionally trained staff
Health monitoring and management
Secured apartments and community spaces
Chef-prepared meals with menus designed by a registered dietician
Assistance with daily activities and tasks
Personalized care
With security features to protect your loved one from harm, you can feel at ease knowing they're in a safe environment.
Your loved one can build social connections, attend spiritual services, and explore their hobbies in a structured setting.
When Is it Time for Memory Care?
It can be difficult for you and your family to identify when to choose memory care. You want your loved one to be happy and surrounded by family, but their dementia or Alzheimer's can rapidly progress to a point beyond your capacity to manage at-home caregiving.
Settling your loved one into memory care early can be helpful to get them the support they need in a safe environment. Some indications it may be time for your loved one to move into memory care can include the following:
You're worried about their safety if they're unsupervised
They're not eating well, are losing weight, or are struggling to get nutrition
Your loved one has stumbles, falls, or accidents
They can't maintain their hygiene, household, or medication on their own
You're facing caregiver burnout
Deciding on memory care can feel like a big decision, but it can be an excellent support for both residents and families.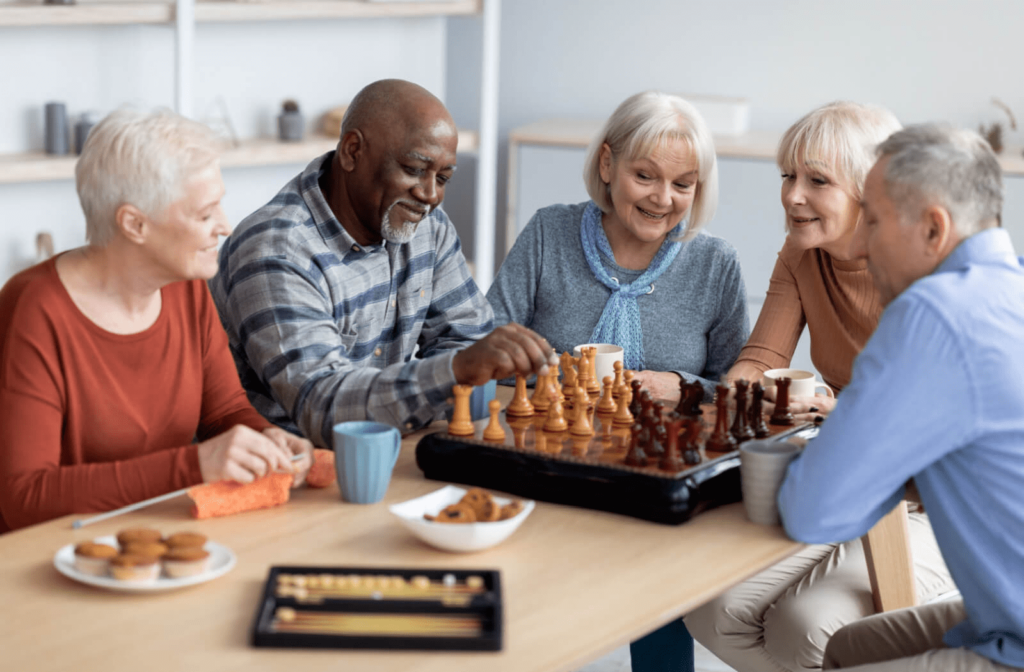 Choosing a Memory Care Community
Selecting a memory care community early can help relieve the pressure of the decision, and in the early stages of your loved one's illness, they may still be able to take an active role in the process.
Some questions you may want to ask and consider in your research can help you make the best decision for your loved one's needs.
How secure is the community?
What are the memory care activities and events like?
Are doctors or specialists available for the residents?
What is the staff-to-resident ratio?
What is the process for family visits?
Is communication between staff and family easy?
What happens when there's a medical emergency?
What kinds of support are not provided by memory care communities?
Choosing memory care is an important step in supporting your loved one through this new phase of life. Alzheimer's or dementia doesn't have to limit your loved one's quality of life, but finding the right community to meet their needs is crucial.
Discover the Memory Care Experience at Barton House
Memory care can ease your anxiety about your loved one living independently, prevent caregiver burnout from managing in-home caretaking, and provide your loved one with a supportive network of staff and neighbors in their new home.
Schedule a visit to Barton House Memory Care to meet our staff, tour our suites, learn about events and amenities, and see the community. Our secure and well-designed community can be a safe home for your loved one as their dementia or Alzheimer's progresses.