Seniors living with dementia face unique challenges in their daily lives. As their cognitive abilities decline, it's increasingly important to provide personalized care and amenities that promote engagement, well-being, and a sense of purpose.
Indoor and outdoor activities, activities for the mind, physical activity, social activity, and family time can positively impact seniors' overall quality of life, helping those living with dementia to maintain their dignity, independence, and social connections.
Dementia in Seniors
Dementia is a group of progressive neurological disorders that primarily affects seniors, causing a decline in cognitive function, memory loss, and impaired decision-making ability. It's commonly associated with aging, and the most common type od dementia is Alzheimer's disease.
While there's no cure for neurodegenerative dementias like Alzheimer's, early detection, proper diagnosis, and implementation of appropriate interventions can help manage symptoms and behavior changes and enhance the well-being of seniors living with dementia.
Amenities available to memory care residents in senior communities can include the following:
Landscaped gardens and walking pathways
Common areas based on memory care best practices
Cafes, markets, and restaurant-style dining
Daily social activities led by skilled teams
Volunteer opportunities
Activities for Seniors with Dementia
To support loved ones with dementia to continue living an engaging and fulfilling life, encourage doing suitable activities they can continue to do throughout the different stages of the disease. Activities can include ones where they are passive observers or actively participate in.
Indoor Activities
Indoor activities can be both therapeutic and enjoyable for seniors with dementia. Art activities, like painting, drawing, or doing crafts, can double as a form of communication when verbal abilities decline. Other indoor activities can include:
Listening to their favorite music
Looking at family photo albums
Having afternoon tea
Watching their favorite shows or sports on television
Creating with clay or play dough
Outdoor Activities
Nature can have a calming effect on loved ones with dementia and help to stimulate their senses. Spending time outdoors while ensuring their safety and providing assistance can have many benefits, with sights, sounds, and smells enhancing well-being and cognitive function.
Engaging in outdoor activities can include:
Gardening
Bird watching
Taking walks
Feeding the birds
Sitting in a park
Watching dogs at a dog park
Playing catch or tossing a ball
Visiting a beach or forest preserve
Having a picnic
Activities for the Mind
Activities that help with cognitive function and mental stimulation can include:
Playing board games, cards, or dominoes
Playing computer games
Doing a puzzle
Reading a book, magazine, or newspaper together
Writing or type letters to family and friends
Playing an instrument
If their long-term memory is intact, ask a loved one about their childhood, siblings, school, pets, or first car.
Physical Activity
Regular physical activity, such as gentle exercise and movement, can benefit those with dementia, helping to improve mobility, balance, and overall well-being.
Encourage seniors with dementia to participate in activities such as:
Dancing
Yoga
Stretching
Taking walks
You can tailor exercises to their abilities to promote safety. Physical activity can also be combined with social interactions, such as group walks or seated exercise classes, to promote social engagement.
Social Activity
Social activity and community engagement are vital for seniors with dementia. Loneliness and isolation can worsen cognitive function over time. Organized group activities allow for more interaction in a supportive and inclusive environment. These can include:
Game nights
Book clubs
Hobby groups
Video calls with family
Attending a place of worship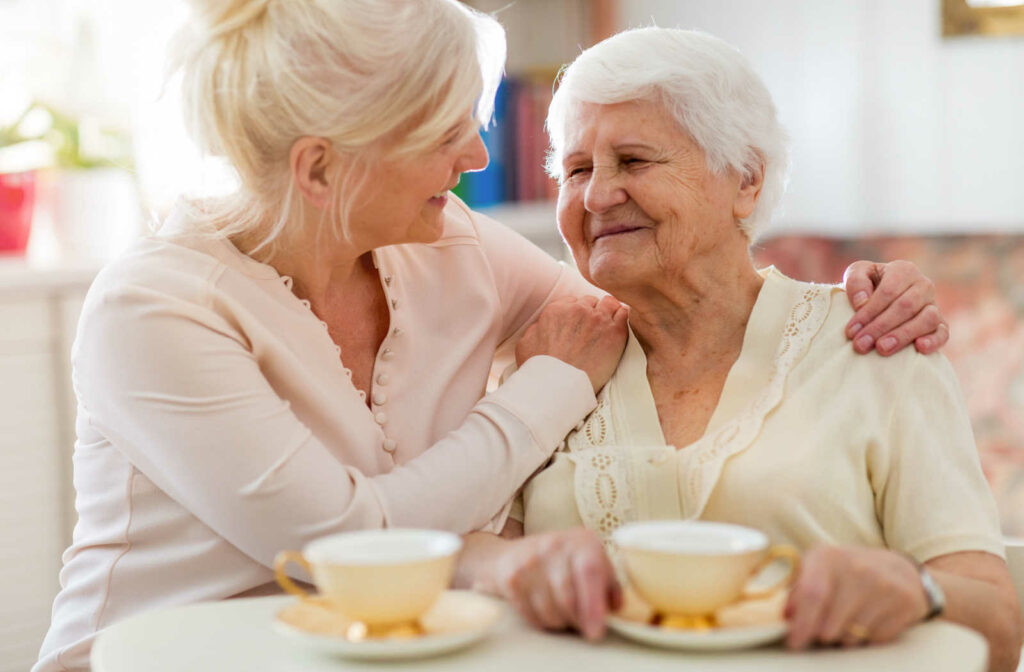 Family Time Holiday Activities
Spending time with family and following family traditions can strengthen existing family connections and create new memories together. Reminiscing can be a powerful tool for seniors with dementia as they can tap into long-term memory and spark conversations. These can include:
Taking photos of a loved one
Creating a family tree together
Baking family favorite holiday desserts
Carving a pumpkin or make a pumpkin pie
Decorating a Christmas tree
Creating holiday greeting cards
Watching a favorite holiday movie
Planning Activities for Seniors with Dementia
Depending on the level of functioning or stage of dementia, look at what a loved one can do and break down the activity into simple tasks. Before engaging in activities, it's essential to create a calming environment. A soothing and familiar setting can help reduce agitation and anxiety.
Improving the Quality of Life for Seniors with Dementia
Creating a calming environment, engaging in reminiscing and memory activities, exploring artistic expressions, encouraging gentle exercise, incorporating music, engaging with nature, and promoting socialization can all positively impact a loved one's quality of life. By approaching their ability to do activities with warmth and compassion, seniors with dementia can maintain their dignity, independence, and social connections as they navigate the challenges of this condition.
If you're looking for personalized care for a loved one with Alzheimer's or other forms of dementia, contact Barton House Nashville or book a tour to see what our community has to offer.