Getting into Memory Care
You want the best for your parent, and you need a place that offers appropriate support services. But getting your parent into memory care can take time. Sometimes it can feel like a long and arduous journey, with many miles between you and your goal.
Starting the process can be the most challenging part. If you're considering a care change for your parent, here are some ideas for helping you make the journey into memory care.
Ask Questions
Knowing the answers starts with asking questions. From researching the type of care needed to facilities capable of providing appropriate support, understanding what to do and where to go begins with you.
Research can be time-consuming and challenging, especially when determining what care is available. However, there are resources to help you assess the type of care your parent needs.
If you're unsure if memory care is the best choice, here are signs that it's time to move your parent into memory care:
Safety concerns
Incontinence
Behavior changes
Lack of social life
Increasing confusion
Declining physical health
Increasing forgetfulness
Trouble with daily activities
Difficulty with hygiene practices
Increasing agitation or aggression
It's also crucial to consider your feelings and health. For example, if you're experiencing caregiver burnout, you can put yourself and your loved one at risk. Memory care can provide professional support, offering a respite for yourself and high-quality 24-hour care for your parent.
What Is A Mental Status Exam?
Suppose you're on the fence about what type of care would benefit your parent. In that case, you might seek a professional medical opinion. A healthcare provider familiar with your parent can help you understand your parent's physical and mental health. It's also a chance to ask for advice.
If requested or recommended by your healthcare provider, one option is a mental status exam. The results can help decide what type of care would offer the best support.
During a mental status exam, a medical professional will consider a variety of factors to assess cognitive function, including:
Memory
Attention span
Social behavior
Physical symptoms
Judgment abilities
Language capabilities
After the exam, the healthcare provider will discuss the results, answer questions, and share recommendations.
Research Your Options
Choosing a memory care residence begins with an interview.
Schedule a tour and learn about the facility, amenities, and community by asking questions. The more you know, the better you're prepared for the next steps. It can also help when it's time to share information with your parent.
Your questions will depend on your parent's needs, likes and dislikes, and services to improve their quality of life. Here are a few questions to help get you started:
What are daily activities like?
What are meals like?
What is your waitlist policy?
What medical services are available?
What is the ratio of staff to residents?
What types of activities are available?
How do you measure resident satisfaction?
How many community members live in the residences?
What training or medical background does the team have?
Asking about waitlists and timelines is crucial for knowing what to expect. Each residence or home will have unique guidelines and expectations.
For example, a long waitlist might mean waiting years before your parent can move into their memory care residence. Unfortunately, you won't know how much time you have to prepare until you ask the right questions.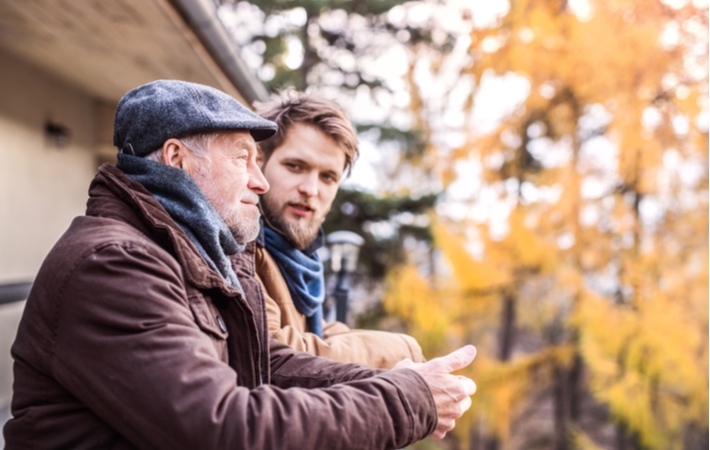 Share with Your Parent
After you've asked questions for yourself, it's time to talk to your parent about the transition to memory care. Discussing and welcoming questions ensures your parent's feelings are heard and respected.
Change can be scary, but you can make the change more comfortable by easing into the new situation. Focus the conversation on the benefits and use positive language. Framing the transition as "for now" rather than forever can also make it easier.
Introduce your parent at their pace. When they're ready to talk, be open to explaining and answering their questions. If they're anxious or need time, be patient.
Develop a Moving Day Plan
Moving can be stressful for anyone. However, developing a plan before moving day can take some pressure off.
Check if the memory care residence offers moving assistance or recommends any services specializing in assisted living moving. Getting help means choosing expert support for you and your parent. Also, ask the memory care residence how they welcome new community members and how you can lend a hand.
Memory Care at Barton House
Making decisions about your parent's care can feel like a daring leap with no safety net below. But you don't need to make decisions alone. Talk to a healthcare provider or services providing advice for senior care. If all signs point to memory care as the best option, you'll know where to start.
Contact us today if you have questions about Barton House and our memory care. We're here to treat your loved ones with compassion and welcome them home.
You can ask our incredible staff about memory care and our process. We can also direct you to resources to learn more about supporting your parent and transitioning to a new home.