Memory loss is part of the natural aging process, but there are more pronounced conditions beyond age-related forgetfulness, like Alzheimer's disease and dementia.
As your loved ones grow older, pay close attention to signs that point to Alzheimer's or dementia, like:
Difficulties with communication
Losing words when speaking
Getting lost in familiar places or while driving
Problems with reasoning and problem-solving
Disorganization
Clumsiness
Confusion
Disorientation
Contact your family doctor if a loved one shows any of the above symptoms.
Being diagnosed with dementia or Alzheimer's can be a frightening experience for you and your loved ones. You may have questions about how these conditions progress, and available care options.
With the proper supports in place, someone in the early stages of Alzheimer's or dementia can live at home. However, a memory care facility may be the most beneficial option as their condition moves into the later stages.
All the Comforts of Home
If you have a loved one with Alzheimer's disease or dementia requiring long-term care, they may benefit from a memory care facility's specialized, round-the-clock care program for memory loss.
Memory care facilities are thoughtfully designed using researched features to create a home-like environment, which helps minimize confusion and provide comfort to residents with memory loss.
Staff in a memory care facility are specially trained in memory-focused activities and therapies, which are crafted to help prolong residents' day-to-day functions and stimulate cognitive capabilities.
Other features of memory care can include:
Customized care programs
Low staff-to-resident ratios
Care coordination with other healthcare providers
Customizable accommodations
Natural lighting
Monitored noise levels
Comfortable and secure environment
24-hour care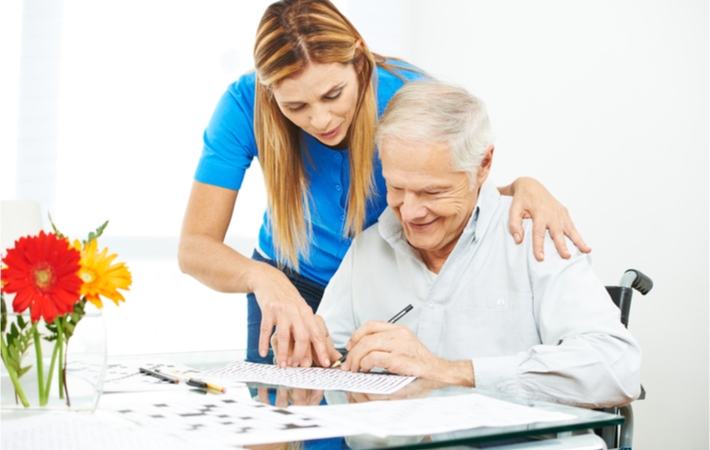 Will Memory Care Benefit My Loved One?
Your loved one with Alzheimer's disease or dementia may benefit from memory care if they:
Are becoming unsafe in their current living situation
Are becoming a danger to themselves or others
Have deteriorating health conditions
Have care needs beyond the capabilities of their present caregiver
Are lacking a structured, daily routine
Require more opportunities for social interaction
Would be happier in a calm and comfortable environment
Patients can exhibit various challenging behaviors in later stages of Alzheimer's and dementia. Memory Care staff are trained to minimize, manage, and prevent these types of behaviors:
Delusions
Hallucinations
Sleep disturbances
Aggression
Agitation
Destructiveness
If your loved one is exhibiting these behaviors, contact a medical professional right away. They'll be able to make recommendations for your family's next steps. For more information about the benefits of a memory care facility, contact Barton House.
Designed for Comfort
Memory Care takes a holistic approach to enhance the quality of life for people with memory loss. Most facilities feature a home-like atmosphere that provides comfort, and helps minimize wandering and confusion.
Memory care neighborhoods are designed for residents, and each community may include several elements intended for their comfort, happiness, and safety, like:
A space that feels like home: Residents enjoy family-style meals, comfortable living spaces, and other features to help promote feelings of ease.
Specially-trained staff: Kind-hearted and knowledgeable caregivers assist residents with the activities of daily living (ADLs) 24 hours a day.
Relaxing living spaces: Multiple sitting areas, comfortable furnishings, and many available places to relax, gather thoughts, and socialize.
Bright-colored floors & walls: Distinct color palettes help residents with visual limitations.
Natural light: Bright, well-lit spaces during the day, and a natural transition into the evening hours.
Safety features: Locked and alarmed exit doors provide a secure environment to prevent wandering and minimize confusion.
Communal spaces: Shared areas encourage interaction, providing opportunities to socialize with other residents.
Outdoor spaces: Safe, well-cared-for grounds encourage outdoor physical activity, opportunities to explore, and enjoy fresh air year-round.
Personalized decorations: Memory boxes, photos, decor, and trinkets are encouraged to help residents feel settled, and for use with cognitive therapies.
Customized Programs & Engaging Activities
Your loved one with memory loss may benefit from the customized care, and memory-enhancing activities offered by a memory care facility. Uniqueness is celebrated in memory care, and therapies are personalized towards each resident's history, needs, and interests.
Camaraderie is encouraged between staff and residents; a strong relationship of trust helps with the development of customized care programs to support cognitive function and emotional health.
Well-researched, memory-enhancing programs and activities are offered daily; most can be altered to meet the care needs of each resident, providing additional comfort and a higher quality of life.
Daily activities offered by a memory care facility may include:
Music therapy
Exercise programs
Occupational therapies
Pet therapy
Puzzles and games
Arts & Crafts
Scent therapy
Help for Your Loved One With Memory Loss
If you're concerned your loved one with Alzheimer's or dementia is unsafe or unhappy in their current environment, it may be time to consider a transition to memory care.
At Barton House, we're passionate about finding the right level of care for seniors, and strive to provide a higher quality of life for our residents. Contact us today with any questions about your loved one's memory loss or memory care.