Finding the right balance between caregiving and your personal life can be challenging when a loved one requires round-the-clock care. There may be situations that prevent you from delivering the best care possible, and respite care is available to help when that happens.
Many senior living communities offer temporary care for families who need it. At Barton House, we provide respite care for your loved ones, whether it's for a few hours, an overnight stay, or more extended periods.
A senior living community offering respite care can be a welcoming and joyful place. A visit to Barton House always includes a warm greeting from our incredible staff and access to all our facility's services.
Your loved one may benefit from temporary respite care if they:
Require 24-hour a day nursing care
Require nursing care at frequent intervals
Require assistance with the activities of daily living
Require regular supervision or monitoring to ensure their safety and wellbeing
Your family member will get the round-the-clock care they need in respite care.
Why Would My Loved One Need Respite Care?
You may need temporary care for various reasons, but here are a few situations where you may consider respite care for your loved one:
Scheduling Conflicts
When a family is providing the majority of a loved one's care, there may be times when no one is available to provide support. Scheduling conflicts can occur due to work functions, vacations, or unexpected events. In this situation, respite care is a great option.
While your family is carrying out their scheduled activities, your loved one gets to enjoy a wide variety of amenities and services offered by their temporary care provider.
Post-Surgery
Patients often require extra care after surgery, and their post-procedure needs can be complex and time-consuming. Caregivers can lean on a reliable respite care provider for assistance.
At Barton House, we have medically-trained staff available to serve your loved one's more complex needs, and provide compassionate post-surgery care.
Time-Outs
Respite care provides a fantastic opportunity for an elderly family member to participate in engaging activities while their caregiver takes a well-deserved break.
Temporary guests in respite care can benefit from entertaining activities designed to help maintain essential cognitive functions.
At Barton House, we encourage regular breaks for caregivers; these mini-vacations allow them to recharge, pamper themselves, and cross important items from their to-do lists.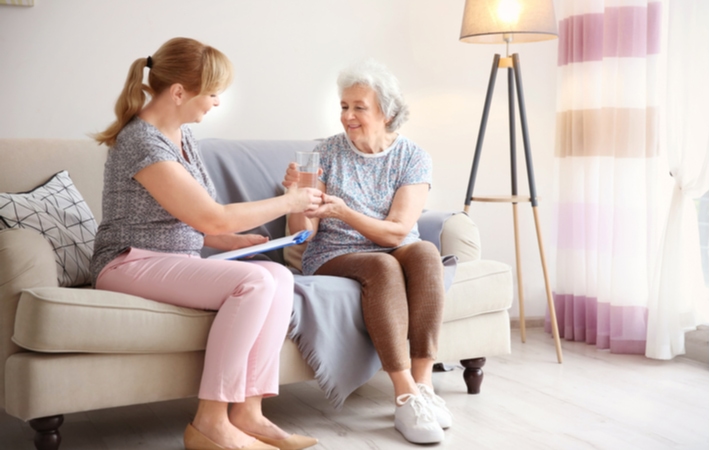 Everything Your Loved One Needs
Respite care offers a variety of amenities to their temporary community members. Guests are offered a bevy of services whether their stay is an extended one, or just for a few hours.
At Barton House, temporary residents can take advantage of our wide range of amenities, like:
Personal care
Medication management
Housekeeping services
On-site supervision and personal support
Registered dietician
Restaurant-style dining
Culinary team
Available nurse practitioner
On-site salon services
Senior living ministries, inc.
TwelveStone Health Partners
Local healthcare and therapy Providers
Housekeeping & laundry services
Computer/internet access
3 home-cooked meals a day and snacks
On-site nurse and care partners to assist with the activities of daily living
Walking paths
Garden
Gathering spaces
Cafes
Market
Special events
Many senior living communities will offer their temporary guests a full slate of amenities. If you are considering a respite care provider, contact them directly to find out what services are included in your loved one's stay.
Benefits To The Caregiver
Caregivers can rest assured that their loved ones are looked after in round-the-clock respite care. Caring for a family member is not easy, and it can be challenging to find the right balance between providing support and living your own life.
Respite care can help caregivers feel more rejuvenated, and ready to enjoy more time with their loved ones after a little break. Other benefits of respite care can include:
Relaxation: Taking the time to enjoy what you love without interruption; hiking, crafting, walking, napping, shopping, or sightseeing.
Increased energy: Stepping away from your caregiving responsibilities can help you recharge your batteries.
Personal space: Taking a step back, choosing to care for yourself, and focusing on your own life can be incredibly beneficial to a caregiver.
Happiness: Enjoy your time without worry or guilt.
A renewed sense of self: You don't need to lose yourself in the act of caregiving. Your life is meaningful too.
New perspectives: Taking a break allows you to step back and see the bigger picture. Stepping away will enable you to gather your thoughts and plan for the future.
Socialization: It's easy to feel isolated as the primary caregiver. Sharing a meal with friends and family, taking the time to chat with peers and neighbors can significantly increase your sense of wellbeing.
Burnout prevention: Caregiver fatigue can lead to caregiver burnout. Using a respite care service is a great way to delegate, allow room for self-care, and provide a well-deserved break from the 24-hour task of being a caregiver.
Respite Care at Barton House
Are you a caregiver looking for information about respite care? Are you wondering if there's a senior living community in your area that's a perfect fit for your loved one? Barton House can help. Call us today for more information.