Finding the Right Support for Seniors
If an elderly parent or loved one needs full-time care, it can be challenging to find a long-term care situation suitable for their needs. From assisted living to nursing homes to memory care, which is best for your parent?
You're likely looking for a home with more services for loved ones with memory conditions such as dementia or Alzheimer's disease. Regular nursing home care will offer various services but might not include the right support services.
Memory care services are specialized to provide additional support to improve comfort, quality of life, and safety.
Finding the best care begins with knowing the difference between regular nursing home care and memory care.
What Is Nursing Home Care?
Many assisted living residences and nursing homes have helpful services like housekeeping and meal services. Assisted living may offer multiple levels of care but generally provides the most independency of all long-term residential facilities.
Unlike assisted living, a nursing home focuses on medical care, offering rehabilitation services like physical, occupational, or speech therapy. Nursing homes can be short-term or long-term care facilities.
Nursing home services commonly include:
Room and board
Medication monitoring
24-hour emergency care
Recreational and social activities
Personal care (dressing, bathing, and toilet assistance)
The staff in nursing homes provide care to people living with various health conditions and mental states. They may have dementia or Alzheimer's training, but they don't specialize in it.
Some facilities with regular nursing home care may even have programs for seniors with memory loss. However, nursing homes don't offer memory therapy. So although they can improve comfort for your loved one, they don't have many unique features tailored to seniors with memory conditions.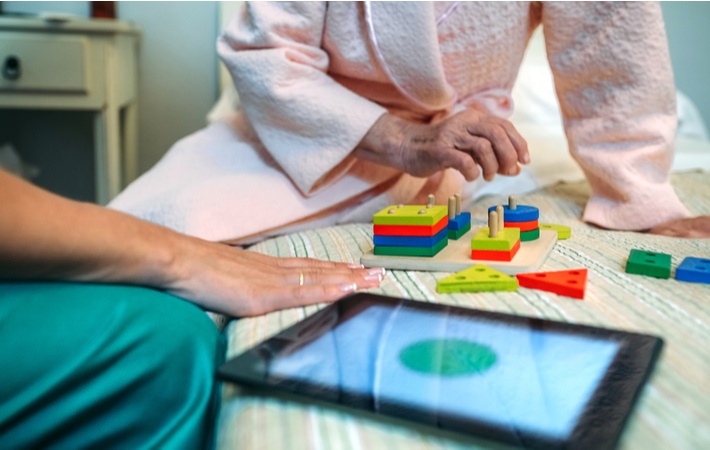 What Is Memory Care?
Memory care takes a holistic approach to residents with memory conditions. Of course, physical health is still part of their care. But they emphasize services that ensure the dignity and safety of their patients. Everything is designed to protect and honor their residents, from programs to residence layout.
One concern for people with Alzheimer's disease is wandering. Memory care facilities have alarmed doors, so the staff always know if a resident is moving about, preventing them from getting lost or forgotten. With the smaller resident numbers, staff can also aid residents more quickly.
The services offered through memory care include comprehensive programs for dementia and social activities. Memory care can help people with memory conditions live fuller lives, from physical health to mental wellbeing.
Deciding Between Nursing Home Care and Memory Care
Knowing the level of care your parent or loved one needs can be challenging to assess alone. Asking a medical professional who knows your parent can help. A doctor may also perform an assessment or a mental status exam.
A mental status exam determines cognitive function by assessing:
Memory
Attention span
Social behavior
Judgment abilities
Physical health
Language capabilities
A medical professional uses assessments to understand an individual's ability to perform essential life tasks, including activities of daily living (ADLs) or instrumental activities of daily living (IADLs).
ADLs are the most basic skills, such as dressing, personal hygiene, feeding, and independent movement. IADLs are more complex activities necessary for unsupervised life tasks, such as managing finances, medication, home maintenance, or transportation.
Someone experiencing difficulties with IADLs may benefit from assisted living or a nursing home because they still have the mental cognition necessary for simple tasks. However, if a person's ability to complete ADLs is compromised, it may be time for memory care.
Talking to a medical professional is only one way to understand changes in memory and wellness. It's also important to trust yourself if you feel it's time, notice signs, or have concerns for their safety or wellbeing.
Memory Care at Barton House
Memory care can greatly benefit seniors who need more attentive care. The difference between regular nursing home care and memory care can significantly affect their quality of life.
Ask our friendly staff If you have questions about Barton House or our process. Our approach to memory care ensures seniors are welcomed into a community that fosters empathy, respect, and consideration.
If you need more information about care services, we can also direct you to resources. We're here to support our residents and their families.
Contact us today to learn more about Barton House.